Matthew 1:1-17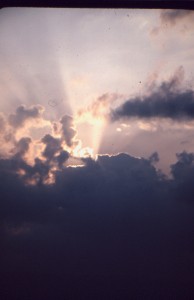 It would be easy to dismiss the genealogies of Jesus in Matthew and Luke as so much trivia. Why do we need to know who the great, great, great, great grandfather of Jesus was? Do we need to memorize those genealogies to get into heaven? (No!) So why are they important? By studying them, we can catch a glimpse of what the Holy Spirit was trying to teach us when he inspired Matthew and Luke to write the first and third gospels in our Bible. I believe the genealogies are more than just a documentary footnote to the gospels. A careful study of them will show us Matthew and Luke's purpose.
We've already seen how Matthew used the genealogy of Jesus to emphasize that the Christ was the son of David (Count Down to Christmas – part 1), and we've discovered another rich lesson tucked away in Matthew's account when we looked at the five women included in Matthew's genealogy (Count Down to Christmas – part 2). In this final lesson in the series, let's look closely at the differences between the genealogy of Jesus in Matthew (1:1-17) and the genealogy of Jesus in Luke (3:23-38). Some teachers have tried to legitimize the differences between Matthew and Luke's accounts by linking Matthew's genealogy to Joseph and Luke's genealogy to Mary. That may be true and partially solve the mystery, but the primary point of recounting the lineage of Jesus is not to provide an accurate family record. The point is to prove the story of Jesus is Gospel: Good News.
Let's begin by observing the differences between the two accounts. The first contrast is, Matthew begins with Abraham and moves forward to Joseph, while Luke begins with Joseph and moves all the way back to Adam. Thus to compare the two, we need to begin with the end of Luke's account and work backwards so we can lay the records side by side. (Note: this part can become tedious, but we need to sift though the names and the differences to find the jewels.)
In the series from Abraham to David (Matthew's first grouping of 14), both lists line up fairly well:
Matthew

Abraham

Isaac

Jacob

Judah

Perez

Hezron

Ram

Amminadab

Nahshon

Salmon

Boaz

Obed

Jesse

David

Luke

Abraham

Isaac

Jacob

Judah

Perez

Hezron

Arni[1]

Admin

Amminadab

Nahshon

Sala[2]

Boaz

Obed

Jesse

David

Notes

Ge 46:8 Now these are the names of the descendants of [Jacob], who came into Egypt, Jacob and his sons. … 12 The sons of Judah: Er, Onan, Shelah, Perez, and Zerah (but Er and Onan died in the land of Canaan); and the sons of Perez were Hezron and Hamul.

Ruth 4:18 Now these are the generations of Perez: Perez fathered Hezron, 19 Hezron fathered Ram, Ram fathered Amminadab, 20 Amminadab fathered Nahshon, Nahshon fathered Salmon, 21 Salmon fathered Boaz, Boaz fathered Obed, 22 Obed fathered Jesse, and Jesse fathered David.
Matthew lists "Ram" as the son of Hezron and Ram is the father of Amminadab. Ruth confirms this order, but Luke says Arni is the son of Hezron and Admin is the son of Arni. Neither Arni or Admin are mentioned elsewhere. The only other variation is between Nahshon and Boaz where Matthew reads "Salmon" and Luke reads "Sala." Of course this could simply be a matter of spelling for the same man and should present no major problem.
The first major differences comes between David and Shealtiel. Matthew lists 14 individuals and Luke lists 20 and there are no matches between Matthew and Luke at this point. Note Matthew leaves out Joash, Amaziah and Azariah (see 1 Chronicles 3:11, 12). Matthew also leaves Jehoiakim off of the list and jumps to Jechoniah (a variation in spelling for Jehoiachin).
Matthew

David

Solomon

Rehoboam

Abijah

Asaph[3]

Jehoshaphat

Joran

Uzziah

[Joash[4]]

[Amaziah]

[Azariah]

Jotham

Ahaz

Hezekiah

Manasseh

Amos

Josiah

Jechoniah

Shealtiel

Zerubbabel

Luke

David

Nathan

Mattatha

Menna

Melea

Eliakim

Jonam

Joseph

Judah

Simeon

Levi

Matthat

Jorim

Eliezer

Josehua

Er

Elmadam

Cosam

Addi

Melchi

Neri

Shealtiel

Zerubbabel

Notes

1 Chr. 3:10 The son of Solomon was Rehoboam, Abijah his son, Asa his son, Jehoshaphat his son, 11 Joram his son, Ahaziah his son, Joash his son, 12 Amaziah his son, Azariah his son, Jotham his son, 13 Ahaz his son, Hezekiah his son, Manasseh his son, 14 Amon his son, Josiah his son. 15 The sons of Josiah: Johanan the firstborn, the second Jehoiakim, the third Zedekiah, the fourth Shallum. 16 The descendants of Jehoiakim: Jeconiah his son, Zedekiah his son; 17 and the sons of Jeconiah, the captive: Shealtiel his son, 18 Malchiram, Pedaiah, Shenazzar, Jekamiah, Hoshama and Nedabiah; 19 and the sons of Pedaiah: Zerubbabel and Shimei
Then there are matches between both gospels for the next two generations: Shealtiel and Zerubbabel, but then the lists divide again. Matthew lists nine individuals between Zerubbabel and Joseph the stepfather of Jesus, while Luke counts twice as many (18) and none of names are the same in either list.
Matthew

Shealtiel

Zerubbabel

Abiud

Eliakim

Azor

Zadok

Achim

Eliud

Eleazar

Matthan

Jacob

Joseph

Luke

Shealtiel

Zerubbabel

Rhesa

Joanan

Joda

Josech

Semein

Mattathias

Maath

Naggai

Esli

Nahum

Amos

Mattathias

Joseph

Jannai

Melchi

Levi

Matthat

Heli

Joseph
As you can see, it all becomes very complicated very quickly. So is there a solution? Some people teach Matthew's account lists the genealogy of Jesus's stepfather, Joseph, while Luke's account gives Jesus's lineage through Mary his physical mother. That may very well be true, but I think a much more important question is to examine the purpose the genealogies serve in both gospels.
Why don't Mark or John include a genealogy of Jesus in their books? Because it wasn't necessary for their purposes. A genealogy wouldn't have advanced their stories. They are included in Matthew and Luke because the genealogies do support the purposes of their gospels. What is their purpose?
The first purpose for both Gospels is obvious. It seems the critics of Christianity attacked the legitimacy of the faith by attacking the legitimacy of Jesus's birth (see Origen, Against Celsus, 1.32). For example, the Jews taught Jesus was the illegitimate son of a Roman soldier named "Pandera" or "Panthera" (a pun on the Greek word for virgin, "Parthenos." See b. Shabbat 104b).  Matthew's solution is to associate Mary with the four other women who had "tainted" backgrounds (See Countdown to Christmas – part 2). Luke's solution is to trace the actual lineage of Jesus back to Adam "the son of God."
Secondly, Matthew wants his readers to see Jesus as the "son of David," the legitimate heir to the throne and as the Messiah, the promised Christ. Luke is far more interested in showing Jesus as the savior of the world – of all nations and peoples – again by portraying Jesus as the son of Adam, the son of God.
Why is all of this so important? Because nothing in the Bible is trivial. By spending our time studying the genealogies of Jesus we learn three things. First, from Matthew's "14 generations, 14 generations, 14 generations," we learn Jesus is the promised son of David, the Messiah. Second from the inclusion of the women in Matthew's family tree of Jesus, we learn God loves everyone no matter what their background or race or gender. Finally, from the inclusion of the genealogies in the gospels, we can trace God's eternal plan through each generation, back to the beginning, to the very creation of his first children. God's eternal desire has been to save us through the gift of his Son and our Savior.
[1] Arni and Admin are only mentioned in Luke
[2] Is it possible Sala and Salmon are the same man?
[3] Are Asaph (Mt.) and Asa (1 Chr.) the same?
[4] According to 1 Chronicles, Matthew skips Joash, Amaziah, and Azariah between Uzziah (or Ahaziah) and Jotham.
[5] Are Asaph (Mt.) and Asa (1 Chr.) the same?
[6] According to 1 Chronicles, Matthew skips Joash, Amaziah, and Azariah between Uzziah (or Ahaziah) and Jotham.
[7] Arni and Admin are only mentioned in Luke
[8] Is it possible Sala and Salmon are the same man?