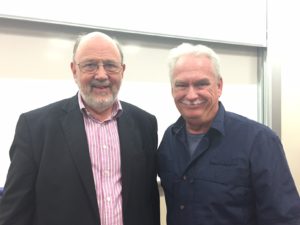 The 73rd annual Pepperdine Bible Lectureship is over, but it was a wonderful experience. It was great to see old friends and make new friends. We heard some amazing speakers, listened to some incredible teachers and I was totally surprised by the response to my class.
When Friday came, I was full of trepidation. My class, "Five Minutes on the Back of a Napkin: A Visual Approach to Sharing the Gospel," was scheduled after lunch on the last day of the lectureship. Many people have to leave early to catch flights home. Likewise, the hour after lunch is the most challenging time of day for a teacher since everyone is full and probably looking for a pillow rather than another class to attend. On top of all that, my class was located in the back of a building and scheduled to run at the same time famous Bible scholar, N.T. Wright was teaching in Smother's Theater! I really doubted anyone would show up, but, by the time class began the room was at double capacity. There were students sitting on the floor, standing in the aisles and dragging chairs up in the hall. I was amazed and gratified!
In the coming weeks, I'll try to post more sections from the class for people to follow along with. Meanwhile, I need to catch up on my sleep and massage aching muscles — the Pepperdine campus is laid out vertically. There are 139 steps from the field house to the plaza and I can't tell you how many times we climbed them, but it was so very worth it!